Interdisciplinary Research Consortium on Stress, Self-Control and Addiction
The Interdisciplinary Research program has transitioned from Common Fund support. For more information, please visit
http://commonfund.nih.gov/Interdisciplinary
. Consortium activities may continue to be supported via other sources; please visit the Consortium website for details.
Executive Summary
Stress, Self-control and Addiction Consortium - Research shows that there is a clear link between physical and mental health and that stress adversely affects both. Research also shows that individuals with serious mental health and substance abuse disorders are impacted by chronic diseases and die at a younger age than general population. Stress also affects addictive habits of nicotine smoking, overuse of alcohol and overeating of rich and high fat foods, which are associated with chronic disease risk and mortality rates. The National Institute of Health funded a large interdisciplinary research consortium on stress, self control and addiction (IRCSSA) to understand and treat stress and bad habits so as to reduce the risk of chronic diseases. Fifty leading scientists who conduct research relevant to a number of NIH Institutes, representing 20 disciplines in five schools (Medicine, Arts and Sciences, Management, Nursing and Public Health) and three academic Institutions, collaborated as a team to: (A) identify mechanisms underlying the development of stress-related effects on self-control in the addictive behaviors of smoking, drinking and overeating; (B) evaluate self-control mechanisms in the pathophysiology of chronic stress and addiction, and (C) develop social, behavioral and pharmacological strategies to increase self-control and decrease addictive behaviors.

Exit to the Consortium website... 

Consortium Director and Scientists

Sinha, Rajita, 1UL1RR024925-01: INTERDISCIPLINARY RESEARCH ON STRESS, SELF-CONTROL & ADDICTION and 1PL1DA024859-01: PROTOCOLS, STATISTICS, COLLABORATIVE METHOD DEVELOPMENT AND TOOLS

Anderson, George, 1PL1DA024860-01: NEUROENDOCRINE, PHARMACOLOGY, AND GENETICS CORE RESOURCE
Arnsten, Amy, 1RL1AA017536-01: IONIC AND SECOND MESSANGER BASIS OF STRESS-INDUCED PREFRONTAL DYSFUNCTION
Baumeister, Roy (Missing in Photo), 1RL1AA017541-01: SELF-CONTROL AND STRESS: A LIMITED RESOURCE MODEL
Blumberg, Hilary, 1RL1DA024856-01: STRESS, NEURODEVELOPMENT AND THE EMERGENCE OF ADDICTIVE BEHAVIORS IN ADOLESCENCE
Lee, Daeyeol, 1RL1DA024855-01: STRESS, PREFRONTAL CORTEX, AND DECISION MAKING
Mazure, Carolyn, 1RL5DA024858-01: INTERDISCIPLINARY RESEARCH EDUCATION
Mckee, Sherry, 1RL1DA024857-01: MODELING STRESS-PRECIPITATED SMOKING LAPSE FOR MEDICATION DEVELOPMENT
Neumeister, Alexander (Missing in Photo), 1RL1AA017540-01: NOREPINEPHRINE TRANSPORTER IMAGING IN ALCOHOL DEPENDENCE AND OBESITY
Piomelli, Daniele (Missing in Photo), 1RL1AA017538-01: ROLE OF ENDOCANNABINOID SIGNALING IN STRESS-COPING BEHAVIOR
Potenza, Marc 1RL1AA017539-01: FMRI OF STRESS & SELF-CONTROL IN SMOKING & OBESITY
Sindelar, Jody, 1RL1AA017542-01: STRESSORS AND THEIR IMPACT ON HEALTH RELATED ADDICTIONS: SMOKING, DRINKING, BMI
Taylor, Jane, 1RL1AA017537-01: STRESS-INDUCED COMPULSIVE BEHAVIORS: CRF REGULATION

Selected Publications
Kim S, Lee D. (2010) Prefrontal Cortex and Impulsive Decision Making. Biol Psychiatry. 2010 Aug 20. [Epub ahead of print] PubMed PMID: 20728878; PubMed Central PMCID: PMC2991430.
 
Rando K, Hong KA, Li CSR, Bhagwagar Z, Guarnaccia JB, Sinha R (2011). Association of frontal and posterior cortical gray matter volume with time to alcohol relapse: A prospective study. American Journal of Psychiatry Feb;168(2):183-92. (Epub 2010 Nov 15.)
 
Jastrboff AM, Potenza MN, Lacadie C, Hong KA, Sherwin RS, Sinha R (2011). Body mass index, metabolic factors, and striatal activation during stressful and neutral-relaxing states: An fMRI study. Neuropsychopharmacology, Feb;36(3):627-37. (Epub 2010 Nov 3.)PMID: 21048702
 
Gourley SL, Lee AS, Howell JL, Pittenger C, Taylor JR. (2010). Dissociable regulation of instrumental action within mouse prefrontal cortex. Eur J Neurosci. 2010 Nov;32(10):1726-34.
 
Deb P, Gallo WT, Ayyagari P, Fletcher JM and Sindelar JL.(2011) The effect of Job Loss on Overweight and Drinking. Journal of Health Economics. J Health Econ. 2011 Jan 14. [Epub ahead of print]. NIHMSID #265301; PMC in Process.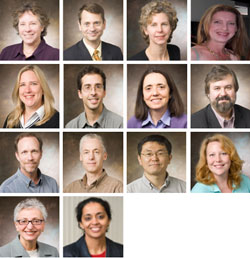 Interdisciplinary Research Consortium on Stress, Self-Control and Addiction Scientists.
First row, from left: Amy Arnsten, Ph.D., Marc Potenza, M.D. Ph.D., Jody Sindelar, Ph.D., Jane Taylor, Ph.D.; second row: Hilary Blumberg, M.D., Ralph DiLeone, Ph.D.; Linda Mayes, M.D., Jack Tebes, Ph.D.; third row: Mark Jeckel, Ph.D., George Anderson, Ph.D., Daeyeol Lee, Ph.D., Sherry McKee, Ph.D.; fourth row: Carolyn Mazure Ph.D., Rajita Sinha, Ph.D.. Missing: Alexander Neumeister, M.D., Roy Baumeister, Daniele Piomelli, Ph.D.  
This page last reviewed on June 25, 2014
Connect with the NIH Common Fund