​SysCODE: Systems-based Consortium for Organ Design and Engineering
The Interdisciplinary Research program has transitioned from Common Fund support. For more information, please visit
http://commonfund.nih.gov/Interdisciplinary
. Consortium activities may continue to be supported via other sources; please refer to the Consortium website for details.
Executive Summary
Damage to body organs is a major cause of human morbidity, and the development of systematic methods to generate new organ parts would transform medicine. At the initiation of this program, however, there was no unified discipline that integrated knowledge about organogenesis, stem cell biology, gene regulatory networks, and tissue engineering into a systematic framework that could be used to synthesize organ parts. The Systems-based Consortium for Organ Design and Engineering (SysCODE) enjoined the expertise of 20 exceptional scientists from Harvard and its affiliated Hospitals, MIT, Vanderbilt and Boston University in a team effort to develop new ways to regenerate organ parts from stem cells. The organ parts chosen - the tooth germ, pancreatic islet, and heart valve - exhibit both graded levels of complexity and distinct mechanical, physiologic and dynamic properties. We hypothesized that the complex, dynamic regulatory networks that underlie endogenous organ development can be resolved at the molecular level by the integration of different disciplines, and that this information can be used to design and build organ parts. The Consortium's five-year plan included: (1) the acquisition of genomic, proteomic and micromechanical data for organogenesis of each organ part, (2) the integration of these datasets into comprehensive gene and protein regulatory networks in an accessible format, and (3) the development of tissue engineering approaches that can use this information to fabricate organ parts from stem cells.
Exit to the Consortium website... 

Consortium Director and Scientists

Maas, Richard, 1UL1RR024920-01 SYSCODE: SYSTEMS-BASED CONSORTIUM FOR ORGAN DESIGN AND ENGINEERING and 1RL1DE019021-01: SYSCODE: TOOTH GERM DESIGN AND ENGINEERING
Baldwin, H. Scott, 1RL1HL092551-01: SYSCODE HEART VALVE DESIGN AND ENGINEERING
Bonventre, Joseph, 1RL9EB008539-01: SYSCODE INTERDISCIPLINARY POSTDOCTORAL TRAINING GRANT, and 1TL1EB008540-01: SYSCODE INTERDISCIPLINARY POSTDOCTORAL TRAINING GRANT
Ingber, Donald, 1RL1DE019023-01: MICROMECHANICAL DETERMINANTS OF ORGAN DESIGN AND ENGINEERING
Khademhosseini, Ali, 1RL1DE019024-01: MICROENGINEERED ENVIRONMENTS FOR EPITHELIAL-MESENCHYMAL INTERACTIONS
Melton, Douglas, 1RL1DK081184-01: PANCREATIC ISLET DESIGN & ENGINEERING
Seidman, Jonathan, 1RL1DK081184-01: SYSCODE: PMAGE Technology Development
Shah, Jagesh V., 1RL2EB008541-01: MICROFLUIDIC PLATFORM FOR GENETIC GUIDANCE OF STEM CELL DIFFERENTIATION
Sunyaev, Shamil, 1RL1DE019022-01: MASS SPECTROMETRY OF PROTEINS INVOLVED IN ORGANOGENESIS

Selected Publications
"Apc inhibition of Wnt signaling regulates supernumerary tooth formation during embryogenesis and throughout adulthood" Wang XP, O'Connell DJ, Lund JJ, Saadi I, Kuraguchi M, Turbe-Doan A, Cavallesco R, Kim H, Park PJ, Harada H, Kucherlapati R, Maas RL. Development 2009 Jun; 136(11):1939-49. PMID: 19429790
 
"In vivo reprogramming of adult pancreatic exocrine cells to beta-cells." Zhou Q, Brown J, Kanarek A, Rajagopal J, Melton DA. Nature 2008 Oct 2; 455(7213):627-32. PMID: 18754011
 
"Amniocytes can serve a dual function as a source of iPS cells and feeder layers." Anchan RM, Quaas P, Gerami-Naini B, Bartake H, Griffin A, Zhou Y, Day D, Eaton JL, George LL, Naber C, Turbe-Doan A, Park PJ, Hornstein MD, Maas RL. Human Molecular Genetics 20, 962-74, 2011. PMC3033187
 
"Network-based characterization of extracellular matrix proteins from the adult mouse aortic and pulmonary valve proteomes." Angel PM, Nusinow D, Brown CB, Tompkins K, Violette K, DeLaughter D, Barnett JV, Zhang B, Baldwin HS, Caprioli RM. Journal Proteome Research 10, 812-23, 2010. PMID: 21133377
 
"Harnessing traction-mediated manipulation of the cell/matrix interface to control stem-cell fate." Huebsch N, Arany PR, Mao AS, Shvartsman D, Ali OA, Bencherif SA, Rivera-Feliciano J, DJ Mooney DJ. Nature Materials 9, 518-526, 2010. PMC2919753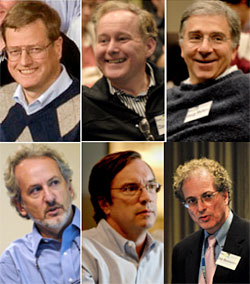 SysCODE Consortium Scientists.
Clockwise, from upper left: Dick Maas, MD, Ph.D.; Dave Gifford, Ph.D.; Doug Melton; Joe Bonventre, M.D., Ph.D.; Jon Seidman, Ph.D.; Don Ingber, M.D., Ph.D.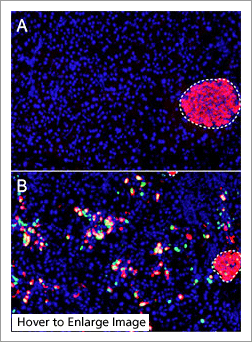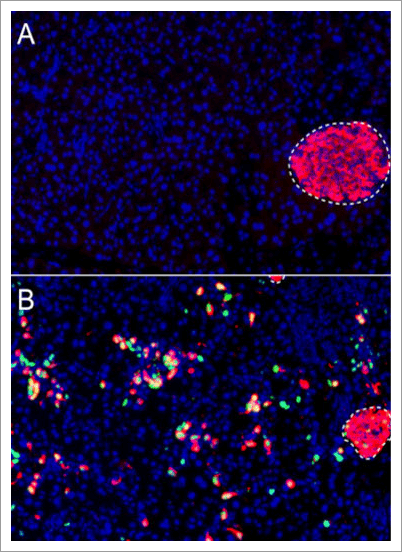 Upper panel (A) shows a pancreatic section stained with DAPI (showing all nuclei) and with anti-Insulin antibody (red), showing normal organization of insulin expressing beta cells into islets. One islet is shown surrounded by a preponderance of acinar cells. Lower panel (B) shows that introduction of a defined set of transcription factors via adenoviral vectors results in extra-islet, insulin positive cells (all infected cells also turn green because of co-expressed nGFP). Just three TFs (Pdx1, MafA and Ngn3) are sufficient to reprogram acinar cell to beta cell.
Taken from: Zhou Q, Brown J, Kanarek A, Rajagopal J, and Melton DA. Reprogramming of adult pancreatic exocrine cells to beta cells. Nature 2008, 455, 627-32, with permission.
This page last reviewed on June 25, 2014
Connect with the NIH Common Fund