Common Fund Program Lifecycle


Strategic Planning:

Phases 1 and 2
Overview
The Common Fund is intended to be a flexible resource for NIH to make strategic investments in programs that will have high impact NIH-wide. Strategic planning is undertaken regularly to identify research areas that address key roadblocks in biomedical research or that represent emerging scientific opportunities ripe for Common Fund investment.
Process
Strategic planning involves the identification of trans-NIH challenges and opportunities that address the Common Fund criteria. Broad topics identified in Phase 1 are refined into a series of well-defined programs and initiatives in Phase 2. The Council of Councils for the Division of Program Coordination, Planning, and Strategic Initiatives (DPCPSI) acts as an external advisory panel to the DPCPSI and NIH Directors for consideration of Phase 1 concepts.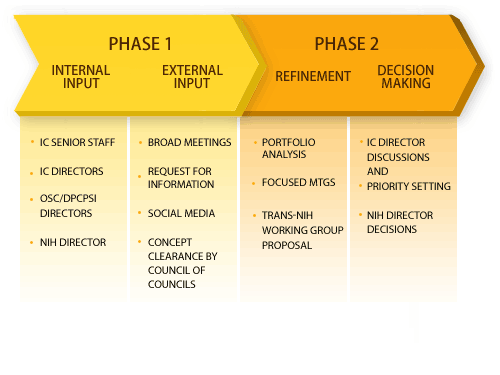 Strategic Planning Updates
Fiscal Year 2018 Programs
The Common Fund plans to launch several new programs in FY 2018, pending availability of funds. 
Additionally, a program on Acute to Chronic Pain Signatures is under consideration for a potential FY 2018 launch. This potential program aims to identify mechanistic signatures (composed of genetic, imaging, molecular, biochemical, and psychosocial data) predictive of the transition from acute to chronic pain and for an established chronic pain state. Understanding and identifying at-risk patients could result in preventive treatment plans that may greatly reduce the prevalence of chronic pain and reduce reliance on opioids. If launched, feasibility of the study will be demonstrated initially through pilot activities to begin in FY 2018. Please note, the scientific nature and scope of this potential program may change as plans are further developed. 
Fiscal Year 2019 Programs
The Extracellular RNA Communication program is being considered for a second stage of support starting in FY 2019. 
Fiscal Year 2020 Programs
Ideas for potential new FY 2020 programs were solicited from NIH Institutes and Centers and discussed at the NIH Leadership Forum in November 2017. NIH Leadership decided that ideas for new programs will not be considered at this time. Instead, high priority goals that expand existing Common Fund programs may be considered, and these would leverage previous Common Fund investments. Ideas for expanding existing Common Fund programs will be discussed further with IC Directors in early 2018. Additionally, a second stage of support for the 4D Nucleome program will be considered for FY 2020.
  Implementation
As each Common Fund program is unique, the implementation of each program varies. To read more about the currently supported Common Fund programs, see Common Fund Programs.
  Transition
Common Fund programs are designed to achieve a set of high-impact goals within a 5-10 year time frame. At the conclusion of each program, deliverables will either stimulate IC-funded research or will transition to support by ICs or other entities that find these resources useful. Programs that have transitioned from Common Fund support can be found on the Former Programs page.
Common Fund programs are evaluated throughout the lifecycle as the need arises.
This page last reviewed on December 28, 2017
Connect with the NIH Common Fund